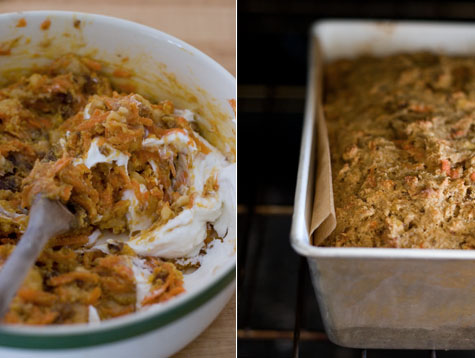 It's time for our first
Have the Cake
challenge! I had a very hard time deciding what we should make. I searched around for any recipe that would grab me and about two weeks ago, I found it. The recipe I picked is for carrot cake. Now, there was some hesitation in picking carrot cake because I have no idea if everyone likes carrot cake! Something with chocolate would have probably been an easy crowd pleaser but the purpose of this club is to try something new and have fun. The beauty of this recipe is that I believe with a little creativity and recipe adjustment, this could be banana cake or zucchini cake/bread. The reason I fell in love with this cake is that it's naturally sweetened with fruit.
After I decided to start this baking club, it occurred to me that in a short two months, I'd have to fit into a bridesmaid dress for my sister's wedding. I kept that in mind when picking a recipe so the ingredients and the overall health factor of this cake very much appealed to me. I found this recipe on a blog that I love called
101 Cookbooks
written by Heidi Swanson. Heidi was nice enough to let me use her beautiful photo for this post.
I've read a lot of the comments on the original post
-click here-
which have included some variations to the recipe. One comment said that the cake tastes very much like banana bread with carrots as opposed to a straight carrot cake. One reader substituted applesauce for butter and was successful. I would suggest reviewing the original post and comments before baking for some ideas and reactions.
Please review
this post
for blogging info and
this post
if you'd like to join the club.
**You can use this recipe or feel free to use another carrot cake recipe.**

Let's get baking!
CARROT CAKE


Source: 101 Cookbooks

2 cups whole wheat pastry flour (or all-purpose flour)
2 1/2 teaspoons baking powder
1 1/2 teaspoons cinnamon
3/4 teaspoon fine grain sea salt
3/4 cup finely chopped walnuts
4 ounces unsalted butter, heated until just melted
1/2 cup dried dates, seeded and finely chopped into a paste
3 ripe bananas (1 1/4 cups), mashed well
1 1/2 cups grated carrots (about 3 medium)
1/2 cup plain Greek yogurt (2% or lowfat is ok)
2 eggs, lightly whisked

6 ounces cream cheese, room temperature
3 tablespoons agave nectar or maple syrup (or to taste)

Preheat oven to 350F. Butter a 9x5x3 / 8-cup loaf pan (or 8x8 cake pan) and line it with parchment paper.

Sift together the flour, baking powder, cinnamon, and salt. Stir in the walnuts and set aside.

Stir the dates into the melted butter, breaking up the dates a bit.

In a separate bowl combine the bananas and carrots. Stir in the date-butter mixture, breaking up any date clumps as you go. Whisk in the yogurt and the eggs. Add the flour mixture and stir until everything just comes together. Spoon into the prepared pan. Bake for about 50 - 60 minutes or until a toothpick tests clean in the center of the cake - it'll be less if you are using a standard cake pan. Remove from oven and let cool.

While the cake is baking whip together the cream cheese and agave nectar (I'm certain you can use sugar instead of agave to sweeten). Taste. If you like your frosting sweeter adjust to your liking. When the cake has completely cooled frost the top of the cake.

Makes one carrot cake.